On the Move Again: International Travel Tips
With the COVID pandemic receding in most areas of the world, Americans are traveling again. U.S. citizens took more than 80 million international trips in 2022, an increase of almost 66% over 2021.1 If you're planning a foreign vacation, here are some suggestions to help keep your trip on track.



Obtain required documents. A passport (or in some cases a passport card) is required to enter and return from all foreign countries, including Canada and Mexico. Your passport should have at least six months of validity beyond the dates of your trip. U.S. citizens can travel to many foreign countries without obtaining a visa in advance, but be sure to follow the rules for all countries on your itinerary. If you need a new or updated passport, check processing and mailing times before booking your trip.
Follow vaccination and testing requirements. Although restrictions have eased, some countries still require COVID vaccination and/or a negative COVID test before entry. Even if there are no requirements, you should protect yourself and be aware of the public health situation in any country you visit.
Alert your bank and credit-card company. Many banks and credit-card companies monitor foreign transactions, so it's wise to inform them in advance and ask about fees for international transactions. Carry at least two cards: a debit card that will allow you to withdraw money from foreign ATMs and a chip-enhanced credit card with a PIN set up before you leave. Although the credit card may only require a signature in the United States, it might require a PIN overseas.
Check health insurance and carry your meds. Find out whether your medical insurance will cover you overseas. (Original Medicare does not cover care outside of the United States; some Medigap and Medicare Advantage policies may offer such coverage.) If not, consider purchasing a short-term travel policy. Bring enough prescription medicine, plus extras, in original labeled containers in your carry-on luggage. A note from your doctor listing medications may be helpful.
---
Going Global
International destinations for U.S. travelers, 2022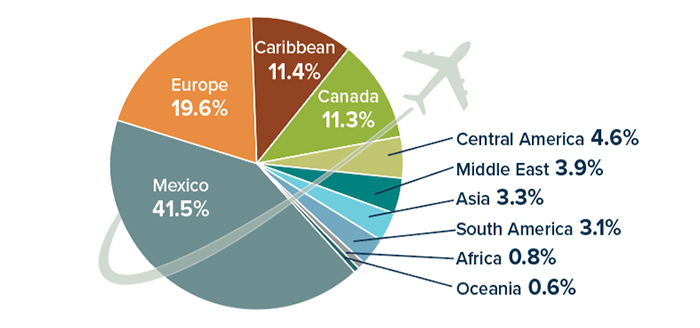 Source: National Travel and Tourism Office, 2023
---
Pay like a local. Know the exchange rate to convert dollars to local currency, and vice versa. Foreign bank ATMs may offer better exchange rates than a currency exchange, but be aware of fees wherever you exchange money. Merchants, restaurants, and hotels might accept payment or quote prices in U.S. dollars, but you will typically get a better price if you pay in the local currency, whether using cash or a credit card.
For in-depth information on foreign travel, including passports, visas, and country-specific vaccination and testing requirements, visit travel.state.gov. For general health guidelines related to foreign travel, including country-specific public health information, see cdc.gov/travel.